Tim Conway passed away today at the age of 85.
He may be most remembered as a part of the ensemble cast on The Carol Burnett Show, but he also made plenty of comedies for the big screen.
So how does this legendary comedian fit into the horror genre? The answer can be defined with just one word: Wookalars.
That's right, back in 1980, Conway starred in the Sherlock Holmes spoof The Private Eyes alongside co-star and oft sidekick Don Knotts.
The film follows two bumbling inspectors, Winship (Knotts) and Dr. Tart (Conway) going about the dark corridors and hidden passageways of a haunted mansion to solve a murder mystery. A beautiful heiress complicates things and a nutty house staff gets in their way at every turn.
But it's the pre-credits stinger that might be the most memorable moment in the film in which the duo have closed the case and are discussing their next one concerning the mythical wookalar, a half-man-half-pig creature.
As they drive through the countryside, the skeptical Winship scoffs at the idea of such a monster just as one pops up behind them. Terrified, they drive erratically into the horizon.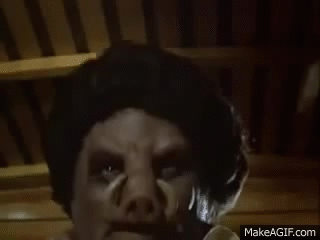 Horror spoofs have been a part of the genre for decades. Who can forget Young Frankenstein (1974), Student Bodies (1981), Clue (1985), or Haunted Honeymoon (1986)?
And let's not dismiss the Scary Movie franchise.
For those of you who will only remember the incomparable Conway for his work on television, it would be a disservice to his memory and us if we also didn't include this B-movie horror spoof.
Plenty of comic legends have made fun of the genre and its shopworn tropes and we can't think of anyone better to add to that list than Conway himself.
Rest in Peace.